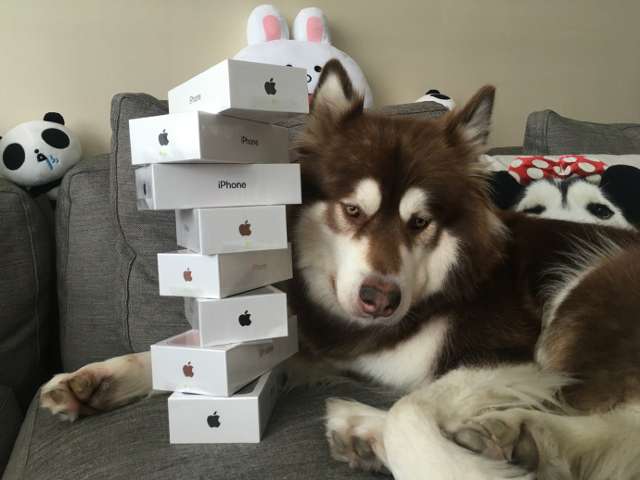 Son of China's richest man shows off his dog's 8 iPhone 7s
Donamix Community
2018-01-20
2648 Views
Society
Okay, we get it, Wang Sicong. You're rich.
The son of China's wealthiest man is once again flaunting the Apple bling, posting pictures of his Alaskan Malamute, Coco, lounging with a stack of eight brand-new iPhone 7 devices.
He posted the images on his account dedicated to Coco on Weibo, China's biggest social media platform.
Wang, speaking as his dog's voice on the account, gloats in the caption: "Not sure what people are showing off on social media about. There is nothing to show off. I was forced to take action."
By "action", he means show you that he has tons more iPhones than you.
The devices aren't Coco's first bounty from the Apple store. Last year, when the Apple Watch debuted, Wang posted a picture of the pampered pooch wearing one on each paw.
The watches weren't just the regular Apple watches, either — they were the gold ones that went for US$10,000 apiece.
Clearly, while neither the phones nor the watches are for Coco's use, Wang's point — that he's privileged — was clear.
Stocks of the new iPhone 7 and larger iPhone 7 Plus are running critically short globally. Apple said last week, days before launch, that the iPhone 7 Plus was entirely sold out, and the much coveted jet-black iPhone 7 would be elusive for the next month at least.
Wang's pictures of the iPhone 7 have come days after hundreds of people queued outside Apple stores in China. Last year's pictures of Coco with the watches were also posted shortly after supplies of the high-end gold editions ran low.
Thousands of people have commented on the iPhone 7 pictures on Weibo. A user called Anonymous Mute said: "Wang Sicong is so gross."
Another user, WeChat a906991000, said: "Sicong's dog has a better life than so many people."
And xxxibgrosegr said: "The phones are probably for all his girlfriends."
Wang is the only child of Wang Jianlin, chairman of Dalian Wanda, China's largest real estate developer. The elder Wang is worth an estimated $28.8 billion RMB (US$4.3 bn).
But judging by the stack of iPhones in mixed colours next to Coco, it seems even the younger Wang's billions and privilege couldn't secure him the elusive jet-black iPhone.
Source: mashable.com

By VICTORIA HO