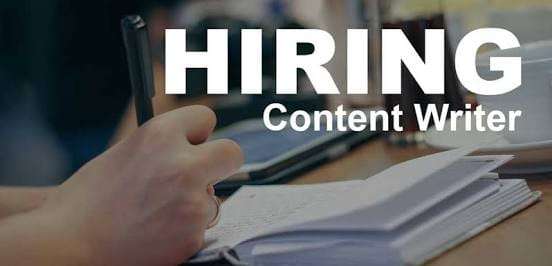 Hiring Content Writers High Salary
Ahmad N.
2018-09-20
7055 Views
Writing
Our company is looking for another remote copywriter to join our team.
Backgrounds spanning any and all industries
Exceptional communication skills
Flexible schedule (this position requires 40 hours of remote availability per week)
Extreme care of content to capture the voice and style of our clients
Requires a reliable laptop, office equipment, and Internet access
If you're seeking a long-term freelance partnership, we'd love to hear from you.
Write and edit an array of content types from blog posts to sales copy to longform content, spanning over 800+ industries.
Work with over 1,000+ different publishers on the web/in the media, ranging from entertainment and lifestyle to industry-specific opportunities
Find flexibility in a 40-hour/week, independent contractor position, as you tackle assignments from the location of your choosing
This position is fully remote! Work from anywhere as long as you have a great Internet connection and a comfortable workspace.
Each writer and editor will gain access to our project management software where they will complete our "Bootcamp" training programs centered to specific areas of work. All projects and correspondence with our internal team will take place here.
Access to hundreds of online courses and training materials, as well as paid subscriptions to the most popular media sources out there!
On-site, state of the art training amenities to facilitate departmental trainings, trend watch reports, and quarterly Lunch-and-Learns
WebFX grew 250%+ over the past 3 years, and merit-based promotional opportunities are abundant for new family members who meet or exceed position performance metrics.
Writer for Articles Related to the Following Topics:

• Business
• Crime and Criminal Justice
• Diversity, Inclusion, and Equity-Based Topics
• Education
• Effective Communication
• Gang Life
• Goal-Setting and Goal-Achievement
• Leadership Development and Effectiveness
• Marketing
• Organizational Communication and Psychology
• Psychology
• Relationship Dynamics
• Sociology

On average this work will involve 5-10 hours each week. This work can be done from anywhere in the world with an reliable internet connection. And can also be done at anytime during the week.
Desired Skills:

• Ability to research and learn about a wide range of topics
• Ability to chat with me briefly regarding each article
• Excellent editorial, teamwork, communication, and organizational skills.
How to apply?
•Register or login then leave your comment below
•Verify your account before you comment

•Choose the topics you want

•We will review your account and skills
•We will send you a message here for interview
What is content writing?
Content writing can be defined as the form of online writing which is closely linked to web marketing campaigns meaning creating the writing which appears on websites that are designed to sell or promote a specific product. The act is professionally performed by content writers who work according to the brief provided by a client. The writers are professionally qualified individuals who create pages keeping in mind SEO.
SEO content writing
SEO content writing is a content writing where pages are created keeping in mind SEO algorithms. SEO friendly pages get place easily on search engine results pages (SERPs). SEO content writing is a form of writing that helps websites become more visible to major search engines, including Google, Yahoo and Bing. A highly visible website with good content appears on the first few pages of results when someone searches for that topic.
Primary job of a content writer
With the passage of time, the demand for skilled web content writers has increased. This is because quality content often translates into higher revenues for online businesses.
Companies depend on content writers to perform several major tasks:
· Create content that allows the site visitors to get the information they want quickly and efficiently.
· Create content pages and other pages which are SEO friendly
· Produce content to entice and engage visitors
· Ensure efficient and focused web content gives readers access to information in a user-friendly manner.
· Create or copy edit to inform the reader
If you want join our team simply follow the steps above in How to apply?